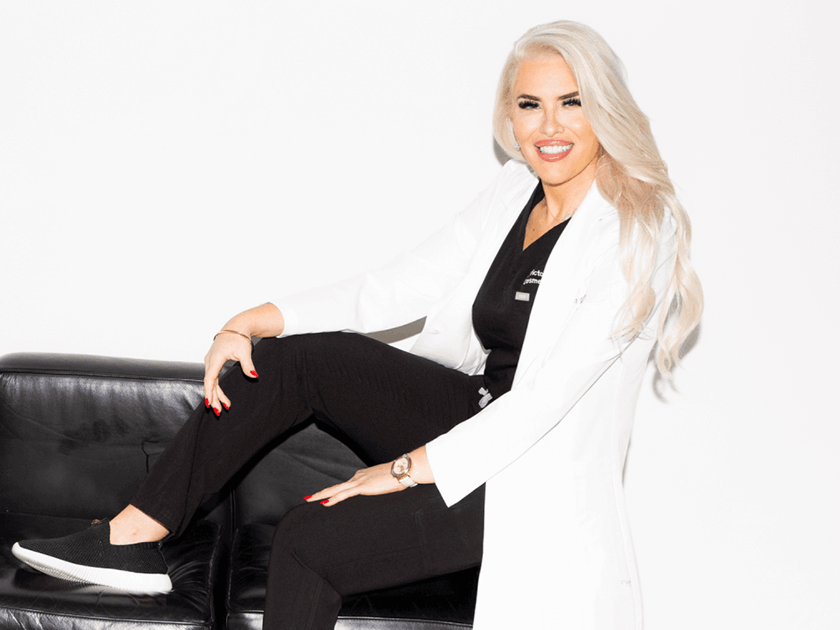 Born and raised in New York and a first generation American, hard work, ethics and determination shaped her journey. Finishing high school by 16 and then by age 22, she became the youngest ever graduate of the New York University College of Dentistry doctorate program. She then moved on to complete her residency at St. Luke's Roosevelt through the Columbia College of Physicians and Surgeons. After excelling in the core basics of dentistry, her practice vision and patient philosophy began to take form. Her goal was to transform smiles through the art and science of cosmetic dentistry with the end goal of building confidence and self-esteem. "I really believe in the power of transformation. That we all have the innate ability to change and make our lives better-- whether it be through a new smile or a habit, I'm so privileged to be a part of that journey with people" Dr. V says.
She decided to open Cosmetic Dental Studios in her late twenties (no business plan, but a crystal clear vision of something totally unique), which was only the beginning of her disruption of a male-dominated industry. Since then, she has grown her female-founded business to oversee two private practices centered around wellness and well-being—on opposite coasts—and it's her nurturing, hands-on approach that has continued to set her apart from her peers and attract an elite clientele. Appointments are hard to come by with her in-demand reputation as "the smile whisperer," but that's because every patient receives the time and attention they deserve, even if it means seeing only one very long patient case per day at times.
The fit was a good one: A prolific pencil portraitist since she was a child, Dr. Veytsman had long been fascinated by the face and its visual nuances. She set out to study dentofacial aesthetics with mentors across the country through. Through these programs, she learned to hone her natural tendency to assess not just the mouth but the entire face holistically. With extensive training under her belt, she began to design smiles to create a sense of symmetry, harmony, and balance that culminates in confidence—a perfect blend of art, science, and wellness. She tailors all her treatments to address and manage the underlying causes of dental issues and very holistic 360 aesthetic approach—looking at the entire face and all features. This is what we call dentofacial aesthetics. Another big part of Dr. V's practice is anti-aging dentistry. This is where we can take 15-20 years off a face just by restoring youth, volume and vibrance to a smile. Dr. Veytsman's ability to recognize the emotional and mental component of the work she does is her gift. After all, there's nothing that can affect someone's mental state and mindset more than not wanting to smile or reveal your teeth. "A smile, especially one that you are insecure about can really affect confidence. I've seen lives change just be eliminating those insecurities. We build confidence through smiles." say Dr. V.
Dr. Veytsman continues her education through dental seminars and workshops in full-mouth rehabilitation and aesthetic internationally. She has trained extensively for years in cosmetic dentistry and full mouth reconstruction.
While she's always had a knack for studying faces—and an artist at heart, she has an extensive background as a pencil portraitist—the ones she's working on these days happen to be a bit more notable. Dr. Veytsman's goal was to create a practice that organically attracted patients by exhibiting values like integrity, but she never imagined her mission would amount to an extensive celebrity roster. She is the official dentist of the Miss USA and Miss America organizations, as well as the New York Giants Cheerleaders, and she has treated a number of actors, models, and athletes, along the likes of Hailey Bieber, Madison Beer, Angela Bassett, Jeremy Piven, Kate Walsh, Dascha Polanco, and many more. Always on the cutting edge of the latest advances in dentistry,
Memberships and Societies
Dr. Veytsman also maintains active memberships in several professional organizations, including The American Dental Association, The American Academy of Cosmetic Dentistry, The American Academy of General Dentistry, and The Academy of Comprehensive Esthetics.
In addition, she is a member of several international dental organizations, including the International Congress of Oral Implantologists, Crown Council, International Academy for Dental Facial Esthetics, and Royal Society of Medicine (UK).
What drives Dr. Veytsman to keep up with her bicoastal commute and packed patient calendar is giving back to local and international communities. As for her charitable endeavors, she has provided services to Bowery Residents Committee, Operation Smile, Urban Tech, and Smile Train. She has worked with The Robin Hood Foundation, which funds more than 100 programs to prevent poverty and aid to the poor; is on the Board of Face Forward International, a nonprofit that provides emotional support and reconstructive surgery to victims of domestic violence, human trafficking and other cruel acts of crime; and partners with Unstoppable Foundation to provide resources that empower communities to lift themselves out of poverty.
With a core personal value of giving back, she is completing a master's degree in Humanitarian Action at University of San Diego, focusing on international development goals and resilience. The goal is to help establish a charity component for her current practice and in progress next venture.
Up next: Her in-progress oral beauty product line, which will empower girls and support women's education in developing countries.
Reviews
"I recently got veneers, and could not be more pleased with how they turned out!!!! Dr. Veytsman and her team were sooooo nice and extremely accommodating to my very tight timeline. They always made sure I was well taken care of and completely happy. I am more confident with my smile and no one can ever notice that they are veneers as they look so natural. Dr. Veytsman is amazing at what she does!!!!"
IB
Office Visit
"Very friendly, professional, helpful staff! Jessica answered all my questions and explained everything in detail. Dr. V could not have been nicer and I felt confident in her expertise ! Can't wait to begin !"
E.C.
Google
"The customer service was second to none !!!"
S.A.
Google
"Amazing work!! Very affordable and reliable. Keep up the great work."
T.C.
Google
Related Posts