The Art & Science of Beautiful Smiles
In the Press
Within Manhattan and throughout the New York City area, Cosmetic Dental Studios and Dr. Victoria Veytsman are known for changing the lives of patients with beautiful, healthy smiles. Dr. Veytsman continues to be featured in national and international publications has been highlighted on countless well-known media outlets for her outstanding results and professional patient care. A featured makeover dentist on the TLC network and profiled in Allure, Brides, Men's Health, Social Life, and Daily Mail to name a few. She is also the Beauty Ambassador for Haute Living in the NYC and LA markets. With countless dentists to choose from, there is a reason why Dr. Veytsman stands out from the others. We invite you to learn for yourself what makes our practice and Dr. Veytsman special and unique.
Learn More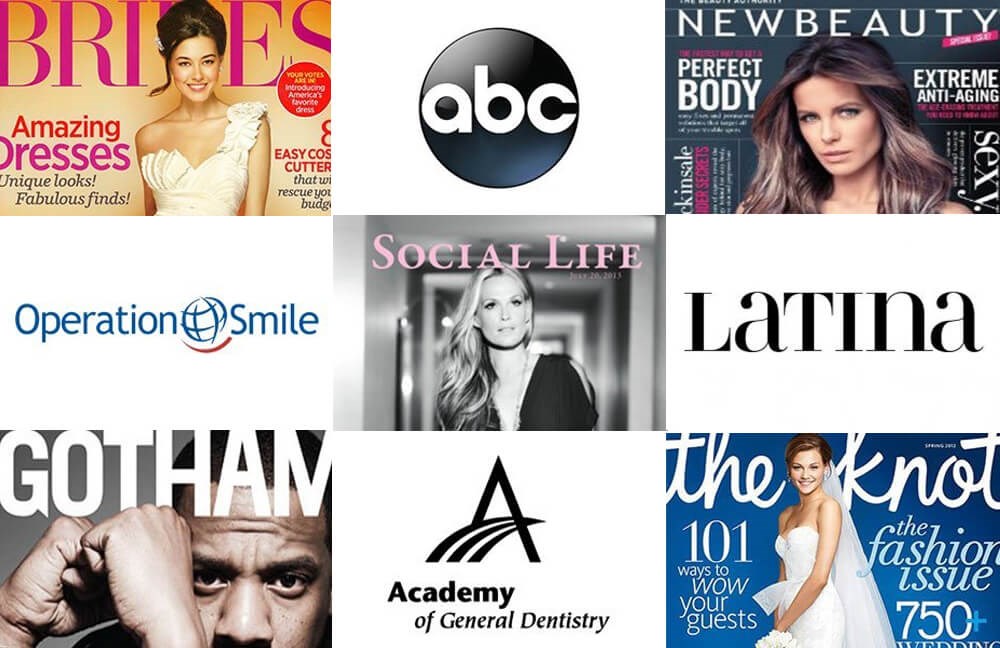 Meet Dr. Veytsman
Dr. Victoria Veytsman, owner of Cosmetic Dental Studios, is one of the premiere cosmetic dentists in New York City. She is the youngest ever graduate of NYU Dental. Her unique set of technical skills across multiple areas of dentistry, along with her compassion and commitment towards patient comfort, has earned her a superlative reputation amongst her patients and colleagues. With a background in art, Dr. V has a passion for smile transformations where art and science come to together to create healthy beautiful smiles every day.
Dr. Veytsman's process begins by sitting down with her patients and hearing exactly what their goals for their smile are. After an examination, she reviews and discusses the diagnosis and treatment options with the patient, ensuring they are fully equipped to make the best possible decision for their perfect smile.
"I am proud to provide my patients with the best in dental artistry and technology, treatment options and patient comfort," says Dr. Veytsman. "It is my pleasure to, and I truly consider it one my greatest privileges to be able to treat the patients that come through our door. I take that responsibility very seriously."
Reviews
I recently got veneers, and could not be more pleased with how they turned out!!!! Dr. Veytsman and her team were sooooo nice and extremely accommodating to my very tight timeline. They always made sure I was well taken care of and completely happy. I am more confident with my smile and no one can ever notice that they are veneers as they look so natural. Dr. Veytsman is amazing at what she does!!!!
Very friendly, professional, helpful staff! Jessica answered all my questions and explained everything in detail. Dr. V could not have been nicer and I felt confident in her expertise ! Can't wait to begin !
I visited Dr. Veytsman recently to get a new set of veneers and I was extremely pleased. She spent an unbelievable amount of time explaining the process and making sure I would be happy with the finished set of veneers.-which I was! Her staff -while still being extremely professional (especially with Covid) were wonderful as well. I highly recommend Dr Veytsman!
Absolutely pleased with my results. My smile now looks like it always should have. They listen and are very attentive. Very happy with my decision —. Highly recommend
Had the best experience here. I was so nervous and hesistant to do any work at all but had 10 old crowns on my top teeth that were at least 20 years old and needed to be replaced (and a bunch of other things going on that I wasnt even aware of). After several consultatons, I finally chose this place because of the reviews, quality of work I saw and I got the sense that they really cared. Going in each time was a very warm experience and I felt very taken care of. Needless to say after a few months, I am finally done. I had my top 10 teeth redone and added the lower 10 teeth because they were in bad shape too. I am over the moon with the results. This old lady looks young and fresh now. Ready to hit the town once everything opens up again! Everything looks and feels great. So happy with my decision and thankful I found ths group of people to take care of me.
4.9 Average Rating
1165 Total Reviews
Our Facilities
Cosmetic Dental Studios CA
414 North Camden Drive
Penthouse Suite 1240
Beverly Hills, CA 90210
Get Directions
About Us
Giving back to the community is important to celebrity dentist, Dr. Victoria Veytsman, with her "Smile For A Cause" campaign. Cosmetic Dental Studios is proud to provide services to the Bowery Residents Committee, Urban Tech, and Smile Train. The "Smiles for a Smile" donates the full cost of a cleft palate repair surgery for a child in need for every patient Dr. Veytsman treats at Cosmetic Dental Studios.