The Art & Science of Beautiful Smiles
In the Press
Within Manhattan and throughout the New York City area, Cosmetic Dental Studios and Dr. Victoria Veytsman are known for changing the lives of patients with beautiful, healthy smiles. Dr. Veytsman continues to be featured in publications, such as Bride Magazine and Social Living, and she has been highlighted on countless well-known media outlets for her outstanding results and professional customer service. With countless dentists to choose from across our city, there is a reason why Dr. Veytsman stands out from the others. We invite you to learn for yourself what makes our practice and Dr. Veytsman special and unique.
Learn More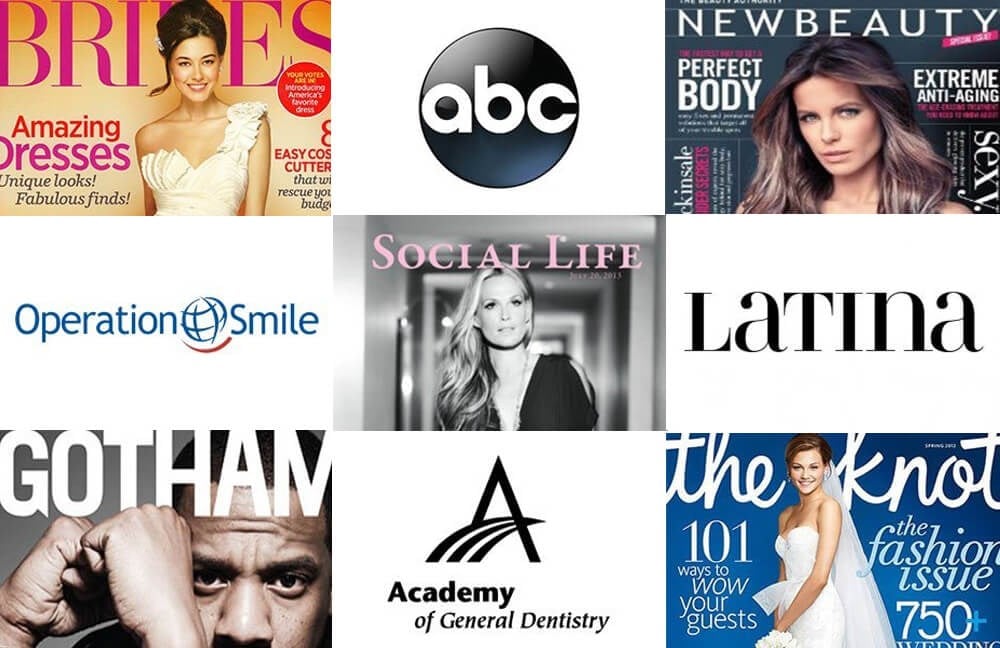 Meet Dr. Veytsman
Dr. Victoria Veytsman, owner of Cosmetic Dental Studios, is one of the premiere cosmetic dentists in New York City. She is the youngest ever graduate of NYU Dental. Her unique set of technical skills across multiple areas of dentistry, along with her compassion and commitment towards patient comfort, has earned her a superlative reputation amongst her patients and colleagues. With a background in art, Dr. V has a passion for smile transformations where art and science come to together to create healthy beautiful smiles every day.
Dr. Veytsman's process begins by sitting down with her patients and hearing exactly what their goals for their smile are. After an examination, she reviews and discusses the diagnosis and treatment options with the patient, ensuring they are fully equipped to make the best possible decision for their perfect smile.
"I am proud to provide my patients with the best in dental technology, treatment options and patient comfort," says Dr. Veytsman. "It is my pleasure and privilege to address all your questions and concerns."
Reviews
Great experience! (and I have never said this before about a dentist as I have a general phobia of dental procedures). She totally put me at ease.
10 stars if that were an option! Fantastic doctor and staff. Everyone makes you feel so comfortable. There is no pushy sales. Its what I need and then alternatives. I will be getting INvisaline and four veneers. Humble kind beautiful and great bedside manners.
Dr. Veytsman, is a fantastic dentist and a great human being. Super kind, gentle and knowledgeable. She's not pushy, like some other dr's, I've had and I appreciate that (accept for some stuff that really needs immediate attention of course). I had some work done on my teeth overseas and she actually complimented the work, super cool. Oh and did I mention that she is drop dead gorgeous tall beautiful young lady?!!! Love her assistant as well, super kind and very sweet. We can chat for forever.
Victoria is one of the most competent and kindest dentists that I know. She has taken care of so many patients I have sent her way- from celebrities to supermodels to busy corporate moguls to Moms Dads and kids. Her kind nature and caring touch suits everyone. Conveniently based in midtown Manhattan- she is centrally located for us busy New Yorkers constantly on the go. I always recommend Vicky to everyone... she is truly one of my favorite people on the planet- plus she is stunningly beautiful!
This review only contains a rating
4.9 Average Rating
701 Total Reviews
Map and Location
About Us
Giving back to the community is important to celebrity dentist, Dr. Victoria Veytsman, with her "Smile For A Cause" campaign. Cosmetic Dental Studios is proud to provide services to the Bowery Residents Committee, Urban Tech, and Smile Train. The "Smiles for a Smile" donates the full cost of a cleft palate repair surgery for a child in need for every patient Dr. Veytsman treats at Cosmetic Dental Studios.